End of the year is usually identical with celebrations, but that's not the case this year, at least in entertainment industry. The fourth and final part of AceShowbiz's annual Kaleidoscope kicked off with a heist that involved . And just a few days away before 2016 is over, we were sent into a mourning mode with the sudden passing of some music and TV legends.
In television, a heartbreaking development on a favorite TV show's storyline stirred the emotions of fans, while some reality shows ended their seasons by crowing new winners. As music celebrated the achievements of talents in the industry through awards shows, movie execs were anxiously paying attention to the performance of their tentpoles movies that were released during the holiday season while gearing up to unleash their next projects in the new year.
OCTOBER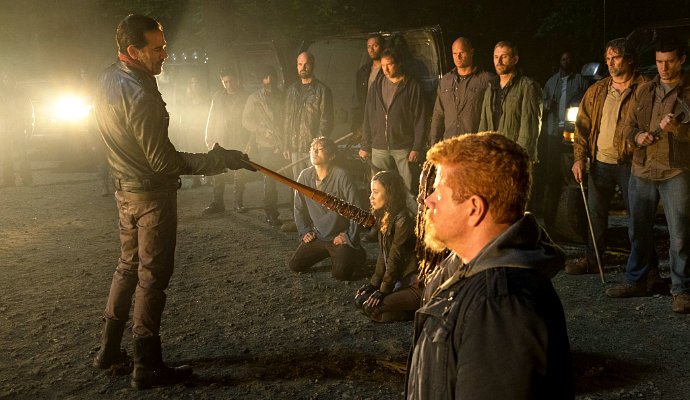 Everybody was looking forward to October like crazy because they're dying to get the answer to "" season 6 finale cliffhanger. When the seventh season premiered late that month, we finally found out whom Negan killed, but fans ended up feeling more upset. The writers decided to kill off Glenn (), despite the fact that he's one of fan favorite characters who had been a part of the show since the beginning. As if his death wasn't devastating enough, Negan swung his bat on Abraham Ford's () head before he claimed Glenn's life.
In real life, an unfortunate event happened to early in the month. The reality TV star was robbed at gunpoint in her Paris apartment, where she stayed during Paris Fashion week. The robbers ran away with $10 million worth of jewelry, including the massive diamond ring which she often flaunted on social media. Police still couldn't identify the thieves. Badly shaken because of the tragedy, the wife of has decided to stay out of the spotlight since then.
Other notable events of the month:

Oct 02: got robbed at gunpoint while attending Paris Fashion Week.

Oct 02: denied sexual assault allegation.

Oct 03: revealed he was diagnosed with an "immediately aggressive" form of prostate cancer.

Oct 04: checked into rehab to seek help for "depression and suicidal urges."

Oct 04: "" was renewed for season 7.

Oct 04: and led full winner list of the 2016 BET Hip Hop Awards.

Oct 05: dumped Ryan McCartan months after getting engaged.

Oct 06: revealed she made her husband Brandon Blackstock get a vasectomy after she gave birth to their second child together.

Oct 06: returned with first new album in over a decade.

Oct 06: announced new album "".

Oct 07: welcomed baby first baby with fiance Hermann Nicoli.

Oct 07: 's lewd conversation with Billy Bush leaked online.

Oct 08: "" star came out as bisexual.

Oct 09: got engaged to his Playboy model girlfriend .

Oct 10: and Mia Goth surprised everyone with a live-streamed wedding in Las Vegas.

Oct 10: broke up again with .

Oct 10: got arrested for trespassing during a live-stream North Dakota pipeline protest.

Oct 11: , and won copyright suit against New York musician Joel McDonald a.k.a. Joel Mac.

Oct 11: checked back into rehab in Tennessee after she took a break from spotlight to deal "anxiety, panic attacks and depression.

Oct 12: confirmed she's pregnant at 50.

Oct 12: landed at No. 1 on Forbes' list of highest-paid dead celebrities with $825 million.

Oct 13: Alaska won ": All Stars 2".

Oct 13: Nancy O'Dell split from her husband of 10 years after she's revealed as the married woman was talking about in his lewd comment scandal.

Oct 14: and made first official appearance as a couple since reconciling at Variety's Power of Women luncheon.

Oct 15: gave birth to a baby girl with fiance .




Oct 16: 's "" won Best Movie at London Film Festival.

Oct 16: "" was renewed for season 8 ahead of season 7 premiere.

Oct 17: Billy Bush was officially cut from "" after audio of lewd conversation with surfaced.

Oct 17: and Jennifer Meyer called it quits after 9 years of marriage.

Oct 17: gave birth to a baby boy named Caleb.

Oct 18: "" was already picked up for season 3.

Oct 19: 's wife of 20 years Laura Van Winkle filed for divorce from him.

Oct 20: "" star Larsa Pippen split from husband Scottie Pippen as she's rumored dating .

Oct 23: Negan's first victim was revealed with brutal twist in "" season 7 premiere.

Oct 24: Len Wiseman and wife announced they were divorcing.

Oct 26: secretly wed baby mama Nicole Johnson.

Oct 26: and wife Danielle Deleasa welcomed their second child, another baby girl.

Oct 26: 's rep denied they received $40 million offer from for his unreleased music.

Oct 26: Bryan Fuller departed "" as showrunner.

Oct 26: "" wrapped filming on series finale.

Oct 27: left "" for "That's So Raven" spin-off.
NOVEMBER
Many girls were dying to be this hottest bachelor's girlfriend, but it was who was lucky to win the heart of Prince Harry. After swirling rumors about their romance, the British royal finally confirmed that they're dating in a statement that slammed media and paparazzi for abusing and harassing the "" actress. Meghan subsequently took a break from filming the USA series to visit her boyfriend in London. She returned to shortly, but they managed to sneak time in between their busy schedules to spend time together before the holidays.
Back to U.S. soil, Democratic supporters, particularly those who were rooting for Hillary Clinton at the presidential election, were left upset by 's unexpected win. Those who had openly supported the former Secretary of State included such famous public figures as , , , and . It remains to be seen if Trump will really execute those controversial plans that he promised during his campaign or if he will be a much wiser person once he takes the office.
Other notable events of the month:

Nov 02: returned to CMA Awards 2016 to present with Entertainer of the Year Award.

Nov 03: and Darren Aronofsky confirmed relationship by locking lips in public during New York date.

Nov 04: took hiatus from music after 3-year-old son Noah was diagnosed with cancer.

Nov 04: "" made TV history with two-season renewal.

Nov 06: was the biggest winner at MTV Europe Music Awards 2016.

Nov 06: and Corey Bohan tied the knot in beautiful Hawaiian wedding.

Nov 06: Jinger Duggar and Jeremy Vuolo got married.

Nov 07: Prince Harry confirmed he's dating and slammed media for abusing his girlfriend.

Nov 08: A-listers reacted to winning presidential election.

Nov 10: and welcomed their first child together, baby girl named Dream Kardashian.

Nov 10: and broke up after a year of dating.

Nov 10: Legendary singer/songwriter passed away.

Nov 10: tied the knot with fiance Israel Houghton in Paris.

Nov 10: and wife Jillian officially called off divorce.

Nov 14: " series landed on ABC.

Nov 14: "" was renewed for season 2, but won't return until 2018.

Nov 14: Dwayne "" Johnson was the first non-white star in 20 years to be named People's Sexist Man Alive.




Nov 14: finally confirmed tha he had an affair with "Star Wars" co-star decades ago.

Nov 15: got engaged to boyfriend Jwan Yosef.

Nov 15: made $170 million to be Forbes' highest-earning celebrity under 30 in 2016.

Nov 15: 's ex-wife was found by cops after running away with their sons.

Nov 16: Nick Gordon was ordered to pay $36 million in 's wrongful death lawsuit.

Nov 16: confirmed he's expecting his third child, his first with ex-girlfriend Brittany Bell .

Nov 16: "" was announced to end after 11 seasons on A&E.

Nov 17: debuted new single "Love on the Weekend" and announced a 2017 Tour.

Nov 17: "" star Lisa Masters died from apparent suicide inside her hotel room in Peru .

Nov 18: 's came out as bisexual in a letter to everyone who supported .

Nov 20: won Artist of the Year, was named Favorite Pop/Rock Female Artist at the 2016 American Music Awards.

Nov 20: announced divorce from husband of two years, .

Nov 21: was rushed to hospital for "his own health and safety" after onstage rant and tour cancellation.

Nov 22: and Valentin Chmerkovskiy took the Mirror Ball trophy on "" season 23 finale.

Nov 24: "Brady Bunch" star Florence Henderson passed away at 82.

Nov 26: and got re-engaged after a brief breakup earlier this year.

Nov 27: led winner list of 2016 Soul Train Awards with four gongs.

Nov 28: confirmed she's expecting a child with after debuting baby bump during a date with the singer.

Nov 28: was named Best Actor at the 2016 Gotham Awards, while "" won big.

Nov 29: "" won big at the 2016 National Board of Review.

Nov 30: 's girlfriend revealed first pregnancy during Victoria's Secret Fashion Show in Paris.

Nov 30: her dancer Bryan Tanaka went public with their romance as they're pictured kissing and snuggling on a beach on Hawaii.

Nov 30: gave birth to her and husband 's second child.

Nov 30: topped Forbes' list of 2016 Highest-Paid Musicians.

Nov 30: "" was canceled after four seasons.
DECEMBER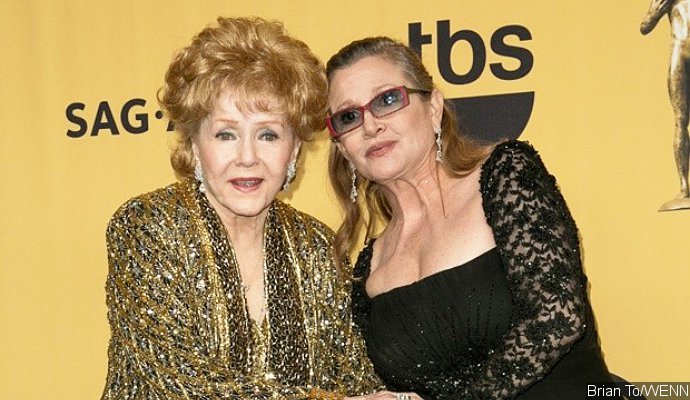 "She got what she wished for" may not be the nicest words to say here, but that did happen to , who passed away a day after her daughter died. Reynolds and her family were still mourning the death of the "Star Wars" movie star, who was hospitalized for several days after having a cardiac arrest during a flight, when the 84-year-old had a stroke. According to her son Todd Fisher, earlier on December 28, she said, "I miss her so much, I want to be with Carrie."
The sudden passing of those two TV vets was the most recent among a string of tragic loss in this month alone. Earlier on December 13, , "Growing Pains" actor and 's father, died at 69 after suffering a heart attack during a game of hockey with his son. Later on Christmas, former singer (53) died in his sleep at his England home. In a lighter yet upsetting news from music, left after four and a half years.
Other notable events of the month:

Dec 01: topped Spotify's year-end most-played lists.

Dec 01: "" was named Best Movie by New York Film Critics Circle.

Dec 03: and wife welcomed twin babies.

Dec 03: "" was renewed for season 2 at Netflix.

Dec 03: "" star tied the knot with girlfriend Joana Pak.

Dec 04: was removed from 's tour after dissing the latter at Dallas show.

Dec 04: won Best Actor at the 2016 Los Angeles Film Critics Awards, while "" was Best Picture.

Dec 04: "" was triumphant at British Independent Film Awards.

Dec 06: led 2017 Grammy Awards with 9 nominations.

Dec 07: , 73, welcomed a baby boy with his 30-year-old girlfriend Melanie Hamrick .

Dec 07: was dubbed Hollywood's most overpaid actor again by Forbes.

Dec 07: "" was canceled by The CW after four seasons.

Dec 08: exited "" to focus on "".

Dec 10: wedded in camping-themed ceremony.

Dec 10: got emotional during her wedding to Dr. Robert
Gerner.

Dec 10: "Brady Bunch" star Susan Olsen got fired drom L.A. radio after launching homophobic rant.

Dec 11: beat as Best Actor in Comedy Movie at the 2016 Critics' Choice Awards.

Dec 12: "" and landed top nods as full winner list of the 2016 Critics' Choice Awards was unveiled.

Dec 13: "" was canceled by WGN America after three seasons.

Dec 13: died at 69 after suffering a heart attack during a game of hockey with son Carter.

Dec 13: "" crowned Sundance Head as the winner of season 11.

Dec 13: singer was charged with possession of marijuana.

Dec 13: Adam Klein won ": Millennials vs. Gen-X" with unanimous votes.

Dec 14: beat 's Billboard Hot 100 record.

Dec 14: and finally made their first public appearance with their two daughters.

Dec 15: faced online backlash for agreeing to perform at 's inauguration.

Dec 17: confirmed he's divorcing his wife of two years, Shannon de Lima.

Dec 17: left after four and a half years.

Dec 19: showed off new ring after surprise wedding to Tom Ackerley in Australia.

Dec 20: revealed she suffered miscarriage.

Dec 21: "" star Valerie Fairman died of alleged overdose.

Dec 21: split from Amanda Abbington after 15 year together.

Dec 22: "" announces Erin Robertson as winner of season 15.

Dec 23: launched internal investigation after "" track was leaked by Martin Shkreli.

Dec 23: was named Vevo's Top Artist of the Year.

Dec 24: A&E abandoned KKK documentary "" after controversies.

Dec 24: "" got season 3 renewal on Netflix.

Dec 25: passed away at 53 at his England home.

Dec 25: and welcomed a baby boy named Phoenix.

Dec 26: was DoSomething.org's most charitable celebrity of 2016.

Dec 26: "" star Ricky Harris died of a heart attack at 54.

Dec 27: died days after suffering a heart attack during a flight from London.

Dec 27: "" actress Tricia Lynn McCauley was killed in suspected carjacking.

Dec 27: announced divorce from after less than two years of marriage.

Dec 27: and wife of 6 years Tameka Cottle a.k.a. Tiny called it quits.

Dec 27: was named Forbes' highest grossing actor of 2016.

Dec 28: passed away after having a stroke, a day after her daughter died.

Dec 28: and Carey Hart welcomed second child.
« | « | «
© AceShowbiz.com

<!-comments-button-->